OIL CHANGE SERVICE
Oil change services you can trust to keep your vehicle running properly.
Oil Changes at Hibdon Tires Plus
To keep your engine running at peak performance, it's crucial to change your engine oil on a regular basis. As motor oil ages, it wears out and begins to thicken, losing its ability to protect your engine. But that's why we're here: to help you keep your ride properly maintained and your engine protected with the right engine oil, expert service, and advice. Make an appointment to get your oil chagned today!
Is it time for an oil change?
The working parts in your engine create extreme heat through friction. Oil keeps the moving parts lubricated and reduces the heat. It also contains special additives to help your engine work more efficiently. Over time, the constant heat in your engine begins to break down the oil. Small bits of debris and dirt can get into the oil over time, making it less effective.
To protect your engine at all times, your vehicle manufacturer recommends changing the oil and oil filter regularly. A change every 3,000 miles is typically recommended, but you should check your vehicle manufacturer's recommended interval. If you are overdue or unsure about your last oil change, schedule an appointment today.
CONVENTIONAL OIL CHANGE
Quaker State® - Conventional oil for durable wear protection
A great budget friendly motor oil change
Filter installation included with every type of oil change
Covered for up to 3-months/3,000 miles under warranty, included with every type of oil change
FULL SYNTHETIC OIL CHANGE
Pennzoil® Platinum - First full synthetic motor oil made from natural gas
Filter installation included with every type of oil change
Oil change using our best full synthetic oil our highest engine protection or opt for our quality synthetic blend options     
HIGH MILEAGE OIL CHANGE
Pennzoil® High Mileage - Our recommendation for vehicles over 75,000 miles
Get our best high-mileage oil designed for vehicles with over 75,000 miles
Helps protect your engine against leaks
Conditioning agents lubricate your engine to keep it running smoothly
The Right Oil for Your Car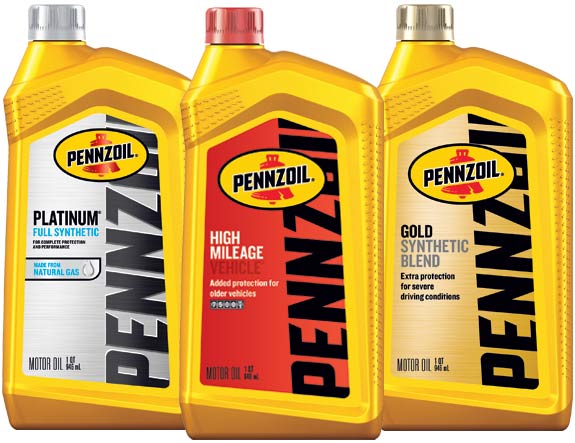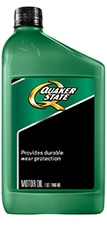 Quaker State®
Durable Wear Protection
Provides durable wear protection that helps engines survive daily commutes from sustained high-speed highway operation to repetitive, stop-and-go traffic.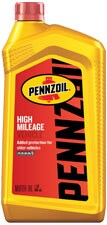 Pennzoil® High Mileage
Recommended for vehicles with 75,000+ miles.
Pennzoil® High Mileage motor oil is formulated with Active Cleansing Agents™. It is specially formulated to help stop leaks from seals and reduce oil consumption in worn engines.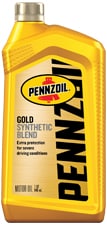 Pennzoil® Gold
Synthetic blend with extra protection for severe driving conditions.
Pennzoil® Gold is an advanced synthetic blend formula with Active Cleansing Technology to better prevent dirt and contaminants from turning into performance robbing deposits. It is specially formulated to provide extra protection for severe driving conditions.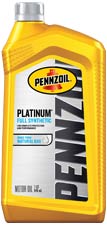 Pennzoil Platinum®
Full Synthetic Motor Oil with PurePlus™ Technology
Pennzoil PurePlus™ Technology is a patented, revolutionary gas-to-liquid process which converts natural gas into a first-of-its-kind, high quality full synthetic base oil. Because this base oil is made from natural gas, it is clear with fewer of the impurities found in crude oil, the start for many other traditional and synthetic motor oils. It is motor oil designed for complete engine protection, without compromise.