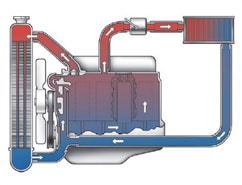 Radiator Service at Hibdon Tires Plus
Hibdon Tires Plus is number one for preventing the top cause of vehicle breakdowns.
Your radiator serves as the cooling system for your engine. Maintaining your radiator's fluid levels and overall health are vital in preventing engine breakdowns—and costly repairs down the road.
Radiator: The radiator receives warm coolant and cools it before redistributing it into the engine block.
Engine Block: As the coolant passes through the engine block, it helps cool the engine to run at the optimal temperature.
Heater-Core: The coolant from the engine travels toward the heater core. Here, the coolant is cooled to proper temperature.
Your Nearest Store:
Store Hours
MON-SAT:

8:00am-6:00pm

SUN:

9:00am-5:00pm
Christmas Eve: 8:00am-4:00pm
Christmas Day: Closed

The details on radiator service
Your engine constantly burns fuel, with temperatures inside the combustion chamber reaching 4,500ºF. The cooling system protects your engine by moving this potentially harmful heat to the outside air. To do this, a mixture of water and antifreeze circulates through the engine block. This coolant absorbs heat from the engine and is flowed by the water pump through hoses to the radiator. Once the radiator transfers engine heat to the outside air, the coolant circulates back to the engine and continues the cycle.
To keep this important system properly working, vehicle manufacturers recommend servicing it at specified time or mileage intervals. The coolant's rust inhibitors and additives may lose their anti-corrosive properties, leaving particles and debris in the system over time. This can cause buildup within the radiator, reducing its ability to keep the engine running at the optimal temperature. To remove this buildup, many service providers perform a radiator "drain-and-fill."
At Hibdon Tires Plus, we perform a Complete Coolant System Fluid Service to remove virtually all of the old coolant and contaminants in your radiator and replace it with new or recycled coolant — keeping your cooling system working properly to protect your vehicle for miles to come.
Hibdon Tires Plus radiator service
Our service includes:
Inspection of your radiator system and pressure test for any leaks
Adding flush chemicals to the radiator
Power flushing the system
Refilling radiator system with recycled anti-freeze
Adding sealant / lubricant to the system
A 12-month or 12,000-mile limited warranty

If a slow leak cannot be detected, a dye detection service may need to be performed.
Why Hibdon Tires Plus?
At Hibdon Tires Plus, there's a lot behind each word in our name. When it comes to tires, we have thousands of them for all vehicle types, and we'll give you a quick, free quote. And with our "Best Tire Prices" Guarantee, we'll match any locally advertised price. Find a better price within 30 days of purchase, and we'll give you twice the amount of the difference.
On-Time Guarantee
Your time is valuable. So we guarantee your car will be ready when we say it will, or we'll give you 10% OFF your next purchase.*