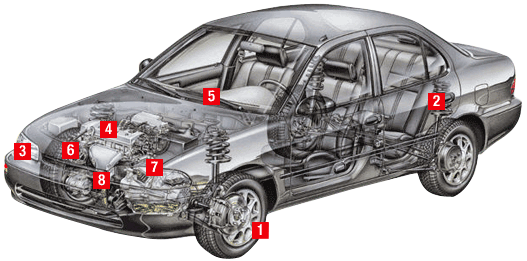 Vehicle Inspection Services
Free courtesy checks mean you pay nothing now—and avoid costly repairs later.
To help reduce the chances of unexpected breakdowns and costly repairs, your vehicle's major operating systems need proper and periodic inspections. Hibdon Tires Plus makes it easy with nearby locations, convenient hours, and friendly expert technicians. Plus, our Courtesy Checks are free!
What is included in a Courtesy Check?
Every time you visit a Hibdon Tires Plus location in Oklahoma, you'll receive a free 19-point Courtesy Check. This helps us alert you to any small things that could cause big problems for you down the road. Our Courtesy Check includes a visual inspection of components found on just about every vehicle on the road. 
Wiper Blades

We'll make sure your blades and wiper arms are in good working condition, and ensure the wiper blade makes firm contact with the windshield.
Lights

From the headlights to the brake lights, we'll check every light on the exterior of your car to see if it is operating. 
Filters

Both your engine and cabin air filter can affect performance if they're too dirty. We'll make sure both are clean and not hindering air flow.
Fluids

Your car relies on the right amounts of clean fluids to operate. We'll check to see if fluids such as oil, transmission, power steering, or coolant are low or dirty, so you can get them refilled or exchanged before a bigger problem occurs.
Hoses and Belts

Worn hoses or belts may not show troubling symptoms until they break entirely! We'll visually inspect your belts and hoses for any signs of leaks, cracks, or damage to help ensure you don't encounter surprise leaks, snaps, or breaks while driving.
Battery

Every visit to Hibdon Tires Plus includes a free battery test. Additionally, we'll inspect the battery case, terminals, and cables to make sure your battery is performing as it should.
Tires

At Hibdon Tires Plus, your tires are very important to us! From PSI to tread depth, we'll make sure your tires are in their best condition, so you can keep rolling and stay in the driver's seat—where you belong!
Are you looking for additional info? Give us a call or schedule a service appointment to get your free Oklahoma vehicle inspection, courtesy of Hibdon Tires Plus.
The details on Complete Vehicle Inspections
Your vehicle manufacturer may recommend more thorough and complete inspections of your vehicle's major systems. Our Complete Vehicle Inspection includes a hands-on inspection of the brake, steering/suspension, and exhaust systems to make sure they meet your vehicle manufacturer's specifications.
What is included in a Complete Vehicle Inspection?
At Hibdon Tires Plus, our visual inspection process during a Courtesy Check is a great way to keep up with preventative maintenance and find potential issues before they show up as sounds, smells, or shakes coming from your car. While it does provide insight into the status of your vehicle, the best way to get a more comprehensive look is through a Complete Vehicle Inspection. 
Our Complete Vehicle Inspection includes everything from the 19-point Courtesy Check and so much more. After we've gathered information on your vehicle, like year, make, model, and VIN, we perform a thorough detailed inspection of components in the:
Exhaust System
Fuel Filter and Systems
Ignition System
And all of this is in addition to the tire, fluid level check, and battery test that's performed during your complimentary Courtesy Check! 
Are you ready to give your car a Complete Vehicle Inspection? Give us a call or stop by your local Oklahoma Hibdon Tires Plus to schedule your inspection with our expert mechanics.
Why Hibdon Tires Plus?
At Hibdon Tires Plus, there's a lot behind each word in our name. When it comes to tires, we have thousands of them for all vehicle types, and we'll give you a quick, free quote. And with our "Best Tire Prices" Guarantee, we'll match any locally advertised price. Find a better price within 30 days of purchase, and we'll give you twice the amount of the difference.
On-Time Guarantee
Your time is valuable. So we guarantee your car will be ready when we say it will, or we'll give you 10% OFF your next purchase.*