Mounting Tires | Tire Mounting Process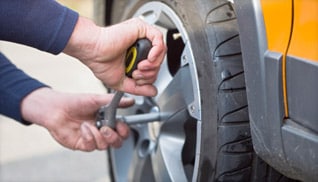 When it comes to mounting tires, no one touches us.
At Hibdon Tires Plus, all alloy wheels and tires are mounted using the best high-tech, specially designed "touchless" machines. This insures that your wheels are never scratched or broken. In fact, we guarantee not to scratch, bend or damage your wheels in any way.

Plus, we'll balance your tires perfectly - and if you feel the slightest vibration, we'll check the balance for free. After all, we are the tire experts. We set the standards, and we stand behind everything we do to make sure you're absolutely pleased. Period.