Mounting Tires | Tire Mounting Process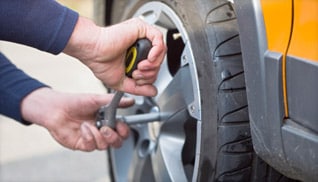 Tire Mounting
Looking for tire mounting service? Hibdon Tires Plus has you covered. Trust our professional staff to mount and balance tires on your vehicle and provide the customer experience you deserve.
What Is Tire Mounting?
Tire mounting is the process of installing tires onto your wheels, but that's only one part of the tire installation process. Once your tires are mounted, they need to be balanced and checked to ensure a smooth and safe ride for you and your passengers.
Can I Mount and Balance Tires On My Own Car?
Mounting and balancing requires specialized equipment and expertise. Unless you have both the equipment and know-how, it's not recommended that you mount or balance your own tires as doing so could lead to unforeseen problems with your car down the road.
To mount tires, the wheels must be removed from your car. Then, your wheels should be cleaned and thoroughly inspected to ensure they aren't bent or damaged. Even a small patch of rust or an inch-long dent can affect the performance of your tires—and your entire car. 
Wheels are then secured to a tire changing machine where the old tire is removed. TPMS sensors are serviced or valve stems replaced, and then new tires are mounted and aired up to OEM specification. After, they are moved and secured to a wheel balancing machine, where they are balanced before being reinstalled on the vehicle. 
Improperly mounted tires can cause a number of issues, including:
Vibrations and shaking while driving
Unnecessary strain on steering and suspension systems
Premature tire wear
Damage to tire pressure monitoring systems (TPMS)
Improperly mounted or balanced tires can risk long-term (and potentially expensive!) damage to your vehicle. It's best to leave tire mounting and balancing to the professionals.

Trust Hibdon Tires Plus for Tire Mounting and Balancing
At Hibdon Tires Plus, all alloy wheels and tires are mounted using updated tire changing machines to maximize precision and minimize risk of damage. Our careful tire mounting process ensures that your wheels are not bent, scratched, or damaged during installation. And we stand behind our work. If you experience any vibrations or other balance problems with your vehicle after your tire mounting and balancing service, we'll check the balance for free and get to the root of the issue.
After you've purchased your new tires from Hibdon Tires Plus, trust your car to our expert tire technicians for affordable, worry-free installation. If you're in Oklahoma, your nearest Hibdon Tires Plus location is ready to meet your professional tire mounting and balancing needs.