RUN-FLAT TIRES
Be Unstoppable
Flat tires don't stand a chance. Drive up to 50 MPH for up to 50 miles with Bridgestone Run-Flat tire & reach your destination safely.


RUN-FLAT FEATURES & BENEFITS
Bridgestone's Run-Flat tire technology makes it easy to stay safe and stay on the road, even when you experience a punctured tire or complete loss of air in one of your tires. With special cooling fins, increased support rings, and scientifically engineered beads to keep the tire attached to the wheel after a loss of pressure, Run-Flat tires mean that your flat doesn't have to turn into an accident. Ready to do more to stay safe out there on the road? We know your cargo is worth protecting. Call or visit your nearby Hibdon Tires Plus location to learn more and schedule your convenient installation appointment online today!
Did You Know?
Flat tires account for about 10% of breakdowns
RUN FLAT TECHNOLOGY
Shop run flat tires online and at your local Hibdon Tires Plus. If you're not sure where to start, talk to one of our tire specialist. They work with you to determine the best run flat tire for your budget, climate, and vehicle. Feel free to make an appointment or stop by a Hibdon Tires Plus near you today!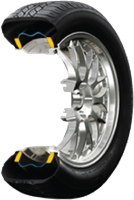 Support
The Bridgestone Support Ring inside the tire supports the vehicle after a loss of air pressure allowing the tire to function and the vehicle to continue on the road.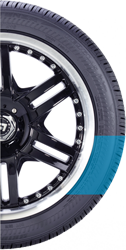 Keep Cool
By having a protrusion (Cooling Fin) on the side of a tire, the movement of air around the tire's sidewall is accelerated as the tire spins. This provides a cooling effect to the tire's surface area.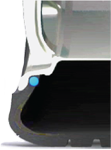 Prevent Separation
To prevent a tire separating from the wheel when tire pressure is lost, specifically designed beads are used.